BEYOND TECHNOLOGY · HANJIN ELEVATOR
PRODUCTS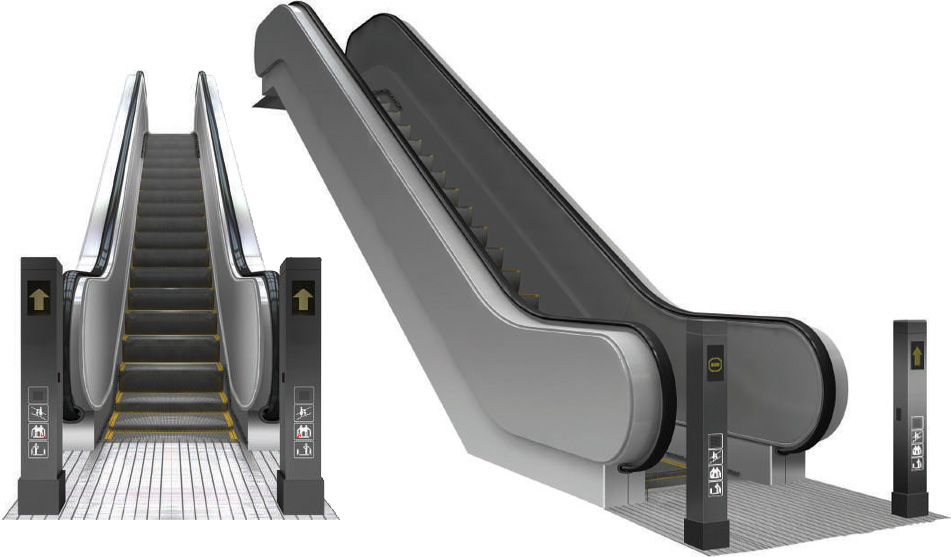 ESCALATOR DESIGN
30°/35° HEAVY DUTY PUBLIC TRAFFIC TYPE ESCALATOR
Exterior Design
Handrail Design : Vertical Glass / inclined Stainless Steel Banister
Handrail Bracket : Aluminum Alloy / Stainless Steel Hairline Finish
Handrail: Sulfurized Black Rubber Ring-Bell inserting with steel wire rope
(other colors, except black is optional)
Exterior / interior Panel or Deck: Stainless Steel Hairline Finish
Skirt Board : Stainless Steel Board coated with Teflon.
Step : Cast Alurninum/ Stainless Steel.
Security sign of step : yellow plastic Safety boarder.
Landing Board : Rameed antislip stainless steel sheathing.
Operation Panel : Red emergency stop button and key switch for up and down.
Lighting under step : Green fluorescent lamp.
Main Specification
Installation Place : Indoor / Semi-Outdoor/Out door
Transit / Running Time : 24hrs / day
Vertical Height: 1.5-12m(for 35o, only used for lower than 6m)
Inclination : 30°-35° Step Width : 600 / 800 / 1,000mm
Horizontal step : 2/3 steps
Upside curvature radius of escalator steps: 1,500/2,700mm
Rated Speed: 0.5m/sec. Delivery Capacity: 3,600 / 4,800 / 6,000
People/hr Power Supply: 3 phase, 380 / 440V, 50 & 60Hz
Lighting Power: 1 phase, 220V, 50 & 60Hz
30° HEAVY DUTY PUBLIC TRAFFIC TYPE ESCALATOR
Main Specification
Installation Place : Indoor / Semi-Outdoor / Outdoor
Transit / Running Time : 24hrs / day
Vertical Height: 3-24m
Inclination : 30°m
Step Width : 800/1,000mm
Horizontal step : 4 steps
Upside curvature radius of escalator steps : 3,000mm
Rated Speed: 0.5m/sec, 0.62m / sec.
Delivery Capacity: 0.5m/sec: 4,800 / 6,000 People/hr0.62m/sec : 5,900 / 7,300 People/hr
Power Supply: 3 phase, 380 / 440V, 50 & 60Hz
Lighting Power: 1 phase, 220V, 50 & 60Hz