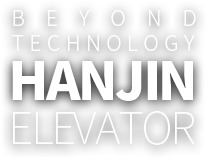 Hanjin Elevator opens up a whole new better way towards the future!
Hanjin Elevator is working hard to create a new value to develop into a global company in its solid determination to do its best.
We will do our best to research and develop ceaselessly based on trust and sincerity.
Premier Elevator Design & System
WE REALIZE CUSTOMER SATISFACTION
BY HANJIN TECHNOLOGY!
Looking forward to better future designed by
constant changing and renovation.
We have been always thinking
Leading the World
based on trust and technology
PRODUCT
PASSION FOR TECHNOLOGY
Designing a 'New Future' through constant change and innovation.